There are two things you never ask a Hollywood actress: the first is her real age, and the second is her weight. (Frankly, this is a good rule of thumb for ALL women, fellas!)
However, Kate Hudson is apparently an exception as she's willing to not just tell you her weight but SHOW you!
The How To Lose A Guy In 10 Days star took to Instagram Story just one day after New Year's to show her followers the moment she stepped on the scale for the first time in 2020.
Photos: Celebrity Fitness Tips & Quotes For The New Year
Oh, that's right — this isn't just her weight, this is her POST-HOLIDAY WEIGHT! This is after all the stuffing and gravy and pie, and she's still willing to bare it all!
She said in the brief video:
"It's Jan. 2, 2020, got on the scale. I wasn't impressed. But that's OK because I know how to do this, you know what I mean?"
What she means is losing that extra holiday weight! Considering she's had three kids, she definitely knows how to get back in shape.
As a Weight Watchers ambassador she thought it would be fun to post updates to her weight loss journey "just to show you how I stay on track."
Kate captioned the vid, which showed the scale's reading of 135.9 lbs, with a breakdown of where she was at the start — the before if you will:
"So, post holiday I'm basically 136… I always round up! Ideal weight for me: 125."
That leaves "10 to go." She wrote:
"I'm gonna say 3-5 lbs is mostly water and I'm a muscular frame so I weigh more even though I'm lean…. Important for people to understand that! Weight in muscle is a happy number!"
Kate is also wearing a full sweatshirt and sweatpants combo in the pic, which must add a little something — though since the scale is highly reflective it's a good thing she is! LOLz!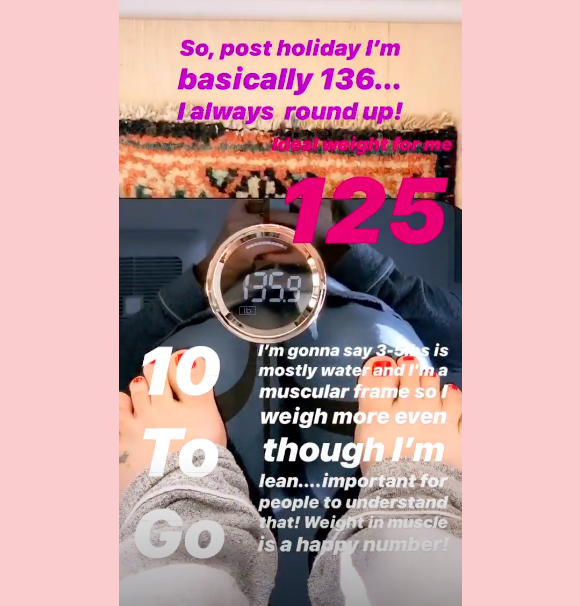 (c) Kate Hudson/Instagram Story
How will Kate lose the weight?
Mostly exercise. She broke down her regimen to Harper's Bazaar in a recent interview:
"Sometimes I'll just move around and dance around to kind of just sweat because I feel like I need to get things circulating. But I'm not hardcore about it. But my exercise go-to's are Brazilian Butt Lifts — it's just really, really concentrating on your core and your butt — and Pilates."
You can get a better look at one of Kate's workout days in an IG vid from Summer 2019 (below):
View this post on Instagram
How I give my tri's a good burn and how I show off my favorite leggings 360 style 😉🏋️‍♀️ #BurnOut #FableticsFriday #CoFounder @fabletics
[Image via WENN/Avalon/Kate Hudson/Instagram.]
The post Kate Hudson Reveals Post-Holiday Weight Gain — And Her Goal! appeared first on Perez Hilton.
Read more: perezhilton.com